Organ-ise Your Stress With These
Here at StressBallsOnly, we supply a wide range of stress shapes that come in different shapes, sizes and designs. We assign all of our stress shapes in different categories for you to have an easier search! For example, we have categories of
Balls
Smiley
Sports
Body Parts
Animals
People
Novelty
Transport
One of the most popular categories of stress shapes provided on our website is our Body Parts stress shapes. Body Part stress shapes are every type of body part you can think of that is turned into a stress shape. Stress shapes are what some people call stress balls. They are a type of stress reliever for people who work under stress. It is made out of closed-cell polyurethane foam rubber(very soft) and is mainly the size of your palm. It is designed like this for everyone to be able to squeeze the stress shape repeatedly.
There are 34 available body part stress shapes available for you to choose from. They all differ from one another. However, many of our customers adore our Big Mouth stress shape. Our Big Mouth stress shape is designed like a human mouth. The detail of our Big Mouth stress shape is fantastic. It looks like a real human mouth but obviously manufactured as a stress shape.
Big Mouth Stress Shapes are produced using a high-grade polyurethane material in red and white that can be ordered in large quantities if required. But what are they good for? These Big Mouth stress shapes are excellent promotional giveaways for any dentistry who is wanting to promote their message across. They are fun to play with, are extremely handy(a great way to relieve stress) and advertise your name perfectly.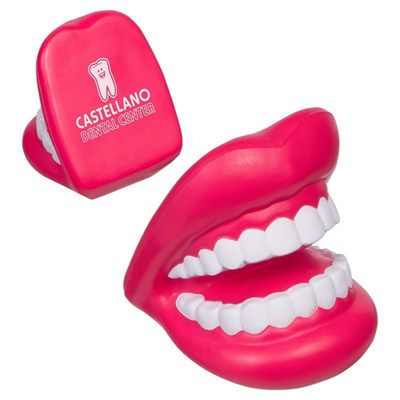 1 October, 2015
The Stress Balls Only Team