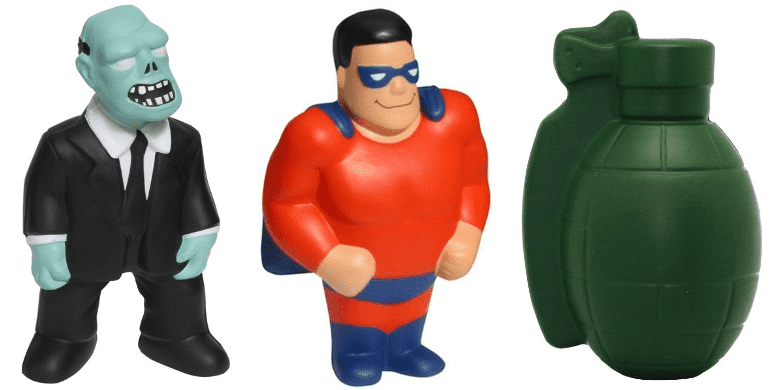 9 February, 2022
Our Top Picks For Novelty Stress Shapes
If you are looking to add a stress shape to your promotional merchandise, you don't have to get something boring like a stress ball. Make it fun and more interactive; below are some of our more novel stress shapes that can be a fun activity for both your clients and staff
Zombie Man Stress Shape
If you are looking for a stress shape for Halloween, look beyond our scary zombie man. He's all dressed in a smart suit but has a big scary face. Printing is done on the back. A great stress item for the kids and adults alike.
Super Hero
Everyone will feel invincible when they receive an action man superhero stress shape. Ideal for promotions where you call on people to do a special act, such as donating blood. They are a novel way to say thank you to people for their service while still giving them something unique to remember their experience; they also have a practical purpose of relieving stress.
Brain Stress Reliever
Ideal for the thinkers in the family, these brain-shaped stress items come in a vast range of eye-catching colours. They are great for training sessions or perhaps as a reward or gift for competitions that require thinking, such as a spelling bee. They also work well for anyone in the following industries – hospitals, doctors (maybe let the kids play with one while being examined), pharmaceutical companies, universities and medical schools.
Grenade Stress Shape
Watch them run for cover when you give them a stress ball in the shape of a grenade. Luckily these won't go "BOOM" and are a fun way to get your message across. Maybe you have that new "explosive" idea you want to promote – these would be perfect.
Talking Stress Shape
These are super fun and are guaranteed to relieve the stress from anyone. Not only are they a stress toy, when squeezed, but they also talk. The set message is "Relax! Calm Down Now. Don't Stress. Take It Easy". The distressed look on your face is comical, and the crazy mop of black hair makes things look chaotic, but these are a fun way to promote ways your company can assist others with your business services.
Number One Stress Shape
These are a great way to recognise either winners or people, in general, to remind them that they are all special. Highlighting people's achievements always makes them feel positive and good about themselves, so why not recognise your staff or clients and use these number one stress shapes.
The above is just a small list of some more novel stress shapes. Did you know we have over 400 to choose from on our website? If you are not sure what would work best for your promotion, get in touch with us, and we'd be happy to offer advice to best suit your needs.
The Stress Balls Only Team